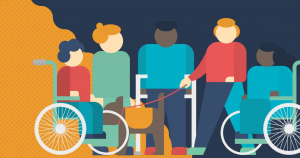 The National Disability Insurance Scheme (NDIS) is a government initiative to support people with disabilities. For more information on who is eligibble please refer to the NDIS website. We can assist with applications and once approved, your psychological treatment.
Applying for NDIS
If you are including psychological problems such as depression, anxiety, learning difficulties or intellectual impairment in your application for NDIS, you may need to have these documented by a psychologist. We can assist your application by completing formal assessment and a report for NDIS. This may include completing self-report questionnaires that assess the impact of your disorders on your functioning, or completing formal testing such as the Wecshler Adult Intelligence Scale.
Psychologist Treatment for NDIS-Approved Individuals
At CBT Professionals, we offer psychological services under self-managed and plan-managed NDIS packages. This is a simples process of setting up a service agreement with your plan manager and providing invoices to your plan manager for payment, once your service is completed.
Services we offer under NDIS include psychological support for emotional disorders, Autism Spectrum Disorders, and supporting the mental well-being of person's with physical disabilities.
For more information and to get started, please give one of our friendly staff members a call.